Marie was born on Oct. 7, 1865 in the small town of Four Corners, located in Butte County, northern California. She was the daughter of Allyn Mather Barnard and Sarah Ann McIntosh. (Her middle name is sometimes given as Elaine, Ellene or Ellen.)
Please note that there is reason to believe that not every detail in Marie's obituary was entirely correct. But here are some of the details of her life that we can be fairly sure of.
Marie studied music at Mills College in Oakland as a member of the class of 1884. At first she taught music in San Francisco but eventually she began her own career as a singer. Her stage name was Marie Barna. Marie sang with John Philip Sousa's band and also with the Boston Symphony. She had married Justin H. Smith in Newport, Rhode Island therefore her name while living in Boston was Maria Barnard Smith. Marie also sang with the Damrosch-Ellis Opera Company and performed in several European cities. But she apparently never achieved any starring roles.
On Sept. 19, 1899, she married amateur opera producer Frank Russak in Newport, Rhode Island. Frank and Marie moved to Paris in 1901. Frank died on Nov. 29, 1914.
Marie had become interested in theosophy by 1898 and it was in that field that she achieved her greatest success. From 1906 and 1910, she lived in India where the headquarters of the Theosophical Society was located. Eventually she became an important member of the Society, better known as Marie Russak or Marie Russak Hotchener, As part of the major role she played, Marie became the international spokesperson for the society and lectured overseas on their behalf. Marie was also a co-founder of the Order of the Temple of the Rosy Cross, along with Annie Besant.
In 1916 Marie married Harry Hotchener.
Of special interest today is the fact that Marie Russak Hotchener was the architectural designer for a large of houses in Los Angeles. It was very unusual in those days for a woman to be an architect. Members of the Krotona Colony of the Theosophical Society were the intended buyers. Many of these buildings still exist as homes today. Primarily these buildings were a blend of both Moorish and Mission-revival styles but there were also added features that would appeal to members of the Society. It certainly didn't hurt that Marie's husband was already successful in the real esate business.
One of Marie's most well-known creations, Moorcrest, was probably completed in 1921. They rented it to film star Charlie Chaplin before selling it in 1925 to another stars parents, Mr. and Mrs. Otto Langhanke. The Langhankes' daughter Lucille acted under the stage name of Mary Astor. Through this family connection Marie and her third husband Harry Hotchener became involved with Mary's fiance John Barrymore. Harry later became Barrymore's business manager and Marie became his astrologer.
Marie died on March 4, 1945 in Hollywood, Los Angeles County, Calif. She was buried on April 14, 1945 at the Chico I.O.O.F. cemetery, Chico, Butte County, Calif. Harry Hotchener died on Aug. 21, 1959 in Ojai, Ventura Co.,Calif. He was also buried in the I.O.O.F. cemetery in Chico on March 30, 1960.
Moorcrest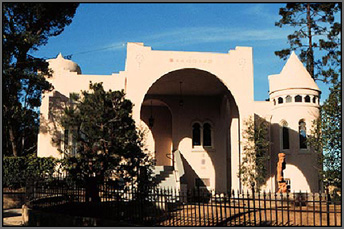 Moorcrest is located at 6147 Temple Hill Drive, Los Angeles, California

I am indebted to researcher Alfred Willis, Ph.D. at Hampton University for making me aware of Marie's accomplishments. Click on the links above to read his very interesting article. The footnotes at the end of the article contains a short biography on Marie but other details about her are found throughout the article.