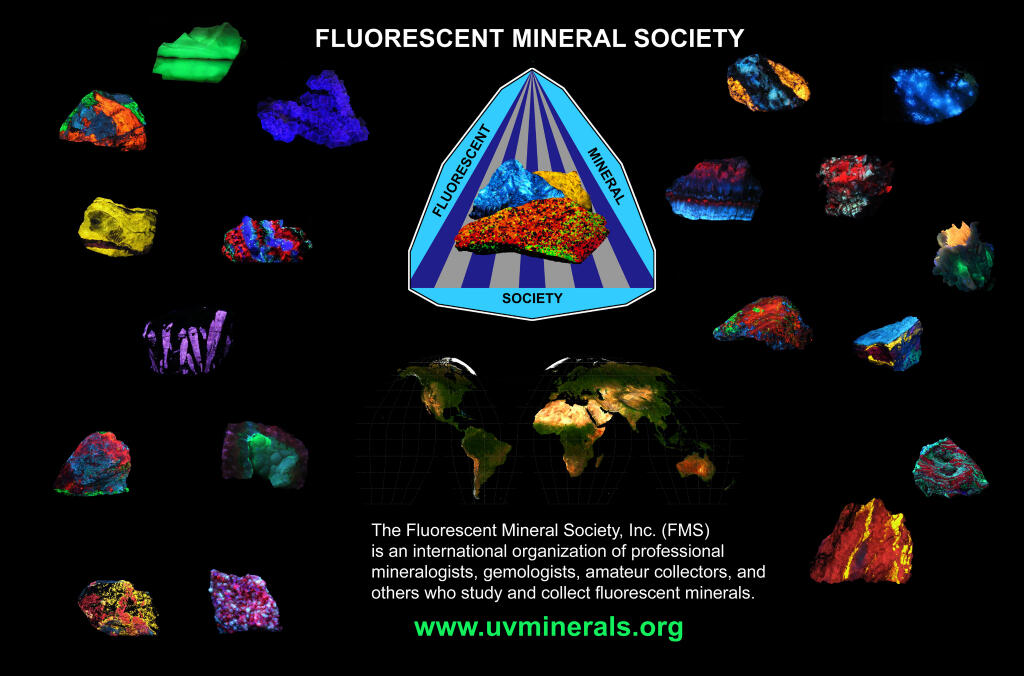 Fluorescent California Exploration
New Fluorescent Mineral Discovery UV Galleries
I personally discovered all of the minerals shown here.
Click on all the graphics for larger versions
NEW: Fluorescent Mineral Large Poster Gallery
Fluorescent California Exploration
2011 discoveries

Fluorescent minerals of San Diego County, California

April, 2013 new discovery

Fluorescent minerals of Tecopa, Inyo County, California
\
Fluorescent minerals of the Green Witch deposit, Shadow Hills, San Bernardino County, California
'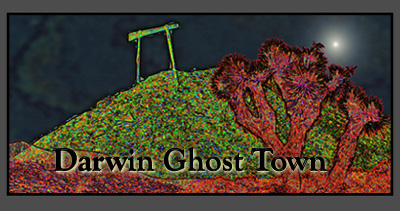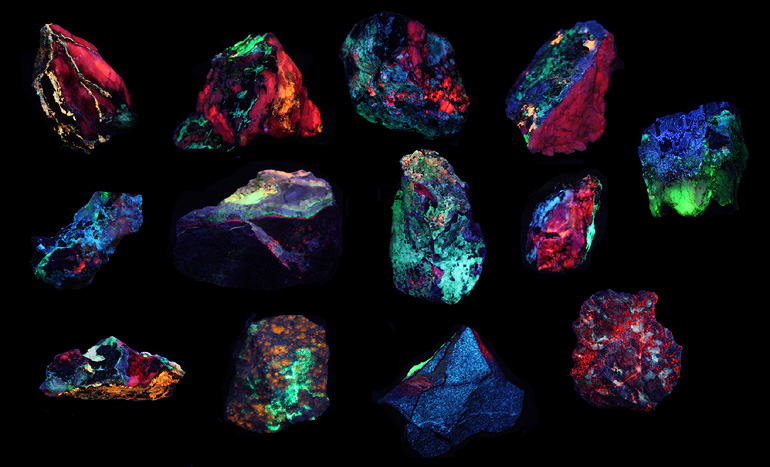 Fluorescent Minerals of Darwin, Inyo County, California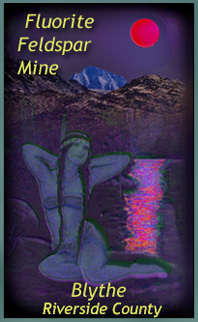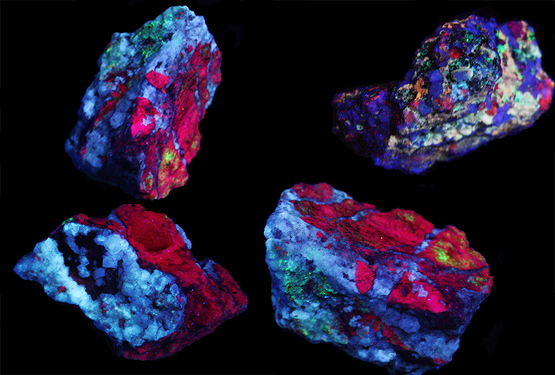 Fluorescent minerals of the Fluorite-Feldspar mine, near Blythe, Riverside County, California
with partial trip report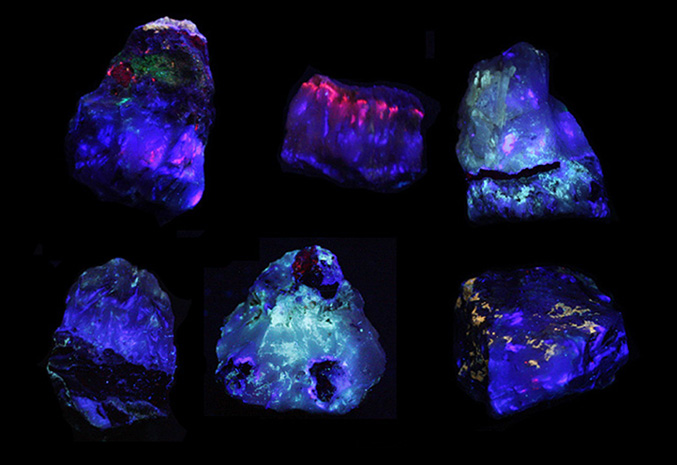 Imperial Barite Mine, near Blythe, Imperial County, California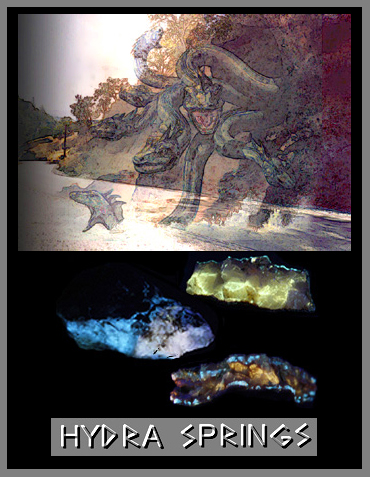 \
Fluorescent Safari 2010 - 2011
| | | |
| --- | --- | --- |
| | | |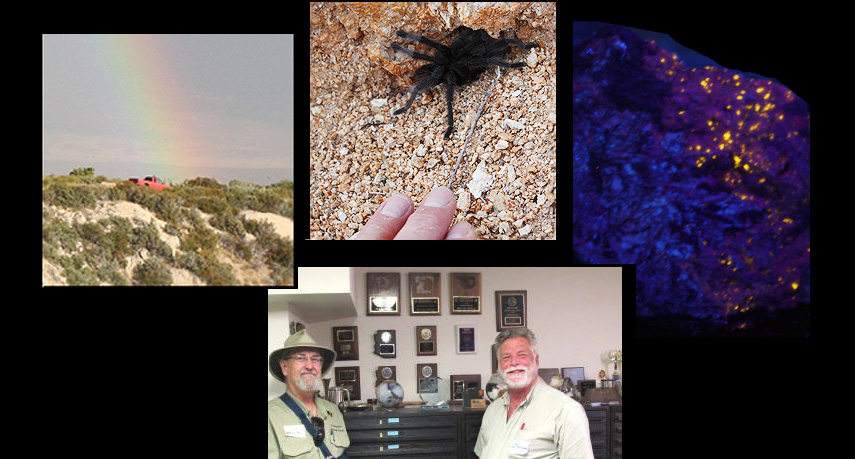 Welcome to the SCFMS
Southern California chapter, Fluorescent Mineral Society
The Southern California chapter's leadership of the FMS ended in early 2012. Now that we are no longer responsible for running the entire worldwide Society we can make a new beginning. Organizing the first FMS chapter website is one way Southern California can continue to make a contribution.
SCFMS chapter activities:
1) Creating a current SCFMS roster
2) Creating SCFMS website and web interface with FMS site
3) Organize a SCFMS chapter-wide meeting
Dave Stuck
SCFMS Chapter Leader
contact email:
| | |
| --- | --- |
| dstuck@uvminerals.org | davidstuck@hotmail.com |
The SCFMS welcomes your suggestions.
FMS members in Southern California 'look at rocks"
Viewing of the Rocks in Woodland Hills, CA, March 2012
From left: FMS members Dave Stuck (So. Calif Chapter Leader), Jim Horste (event host), Jan Wittenberg, Graham Fraser (Australia). The viewing party had finally settled down when this pic was taken. "Viewings" are the high-point of our year, a chance to get together to socialize and strategize. They occur roughly twice a year. Many of the rocks on the table came from Puttapa in Australia which Graham discovered. This was the 2nd year that we had Graham at Jim's post-Tucson "Viewing".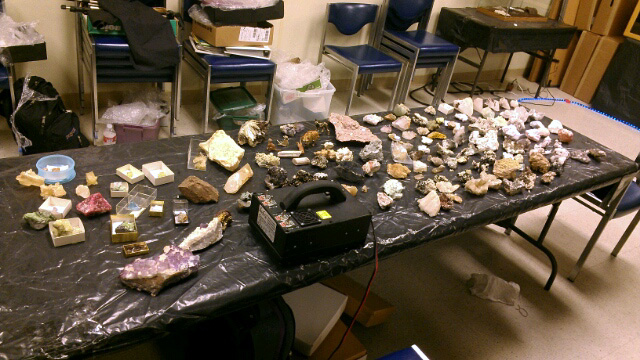 Corby Waste's African fluorescent collection traveled out of our region for "show and tell" at the Northern Calif. FMS meeting, March, 2012, in Newark, California.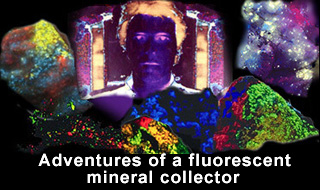 Potential 2012 Field Trips:

Chalcedony in the Turtle Mountains, Riverside County (Turtle Trek 2012)

Blythe

Darwin

San Diego Pegmatites

Cargo Muchacho Mts - Pichacho Peak area

Greenhorn Mountains

Boron - yearly field trip allows access

Searles Lake - yearly field trip allows access

Potential special events for SCFMS members:

Coso Hot Springs - visits can be arranged (see here )

The Coso Volcanic Field is one of the most seismically active regions in the United States.

Coso Mountains Petroglyphs tour - see here

Some trips may have restricted access but some may welcome other FMS members. Inquiries welcome.
Future field trip report additions:
| | |
| --- | --- |
| Ophir Mine | San Diego Pegmatites |
| Greenhorn Mountains | Lead Mountain |
| Calico Hills | Pacoima Canyon |
| Rush Creek | Cascade Canyon |
| Ord Mountain | Palos Verde |
| Mountain Pass | Searles Lake |
| White Knob Quarry | Desert View |
| Boron | Crestmore Quarry |
| San Luis Obispo | New Method Mine + Bristol Dry Lake, Amboy |
The Glow Lab
Need help with mineral ID?
Fluorescent mystery minerals?
Questions?
Let's post them here, preferably with pics and try to find some answers
Southern California Fluorescent Highlight
Desert Danger in the News
Desert Survival Tip #1
"Cactus is our friend"
- from Midnight at the Oasis, by Maria Muldaur, 1974
Southern California Mining Heritage
Saline-to-Owens-Valley Tramway - arguably the most audacious So. Calif. mining scheme ever. It's an unbelievable true story.
Southern California chapter, FMS history
Meet Rod Burroughs, past FMS President

Corby Waste's first meeting with the late Dr. Rod Burroughs in 1992. That was when he first joined the FMS and founded the Northern California Region and became it's first Regional VP. In honor of the special occassion he wore my Miskatonic University Geology Department shirt. In 1998 he gave up my VP job when he moved to Southern California for his mission artist job at the NASA Jet Propulsion Lab (JPL).
Tom Warren's last field trip, Feb. 1994, near Benson, Arizona. He was in his '90's. That's Corby Waste on the right. Tom was responsible for the portable UV lamps that are used today. Collecting fluoresent minerals largely developed as a hobby due to his efforts and support. He was the founder and president of UVP, Ultra Violet Products. He is wearing a fluorescent mineral sweatshirt in the picture. It felt very special meeting and collecting with the man who could be called "the father of fluorescent mineral collecting". I don't know for a fact that this was his last field trip but that's what we think. He had macular degeneration and really couldn't collect that day but he did enjoy getting out into the field as he did so often in his younger days.

Visit the Thomas S. Warren Museum of Fluorescence in New Jersey
| | | |
| --- | --- | --- |
| | | |
The SCFMS page is being created and maintained by Corby Waste, past Board Member at Large, Southern California Chapter
| | |
| --- | --- |
| corby@uvminerals.org | corbyjw@gmail.com |
Certain website rules and restrictions may be needed - please advise if this site does not properly conform.