1973 Atlantis Expedition

to Cádiz , Spain and Galway, Ireland

July 5 to August 15, 1973
"I Was A Teenage Atlantologist"
1973 Atlantis Expedition to Cádiz , Spain poster. These black and white pics are from expedition leader Maxine Asher's 1974 book The Atlantis Conspiracy. They're arranged chronologically. The man in the lower left was expedition member Jacques Mayol, holder of so many world-records for free-diving - holding his breath - that many people called Jacques "The Dolphin". He was a human fish, almost. He died not too long ago. Nice guy, I didn't know much about him but he was friendly to me. To his right in next pic is famed psychic Edgar Cayce's granddaughter Gail Cayce on the left. We became friends on the trip. The Dean of Atlantology, the UK's Egerton Sykes, gave us class lectures in the Conservatorio of Manuel de Falla, a great Spanish musician who happened to write one of his most loved pieces about Atlantis, the famous L'Atlandida. They are definitely familiar with the legend in Spain which is part of why we went there. I'm in 3 of the pics in the poster above. The poster pics are from Maxine Asher's 1974 book "The Atlantis Conspiracy"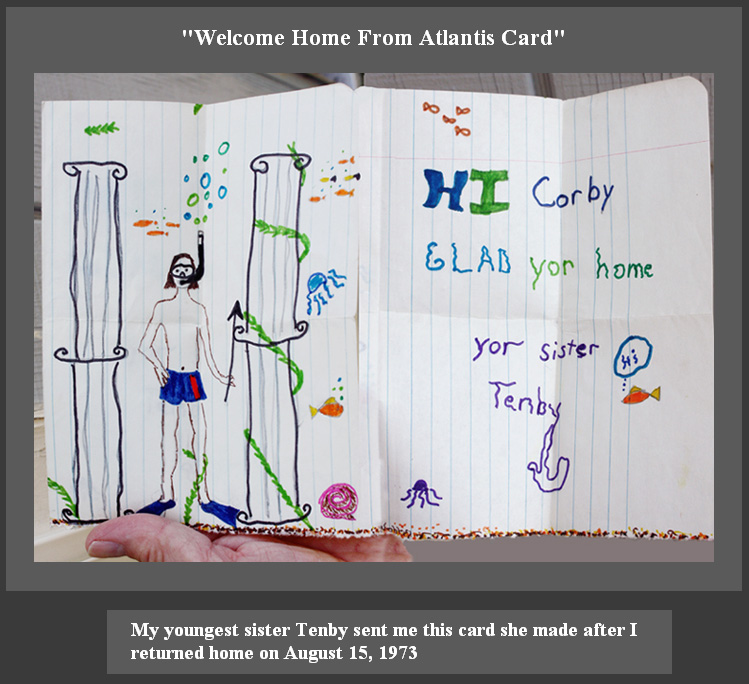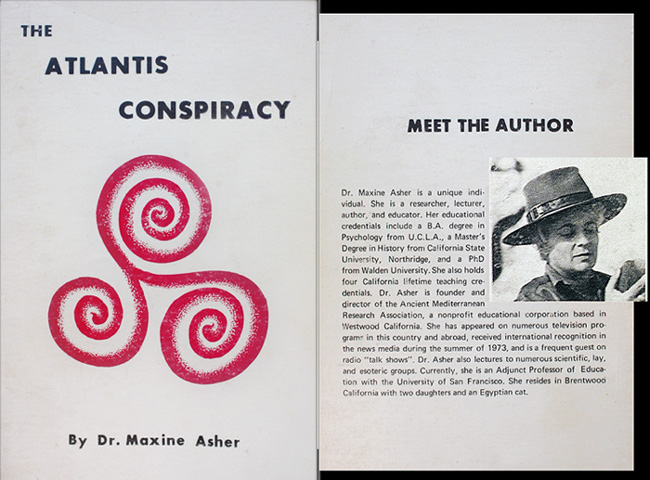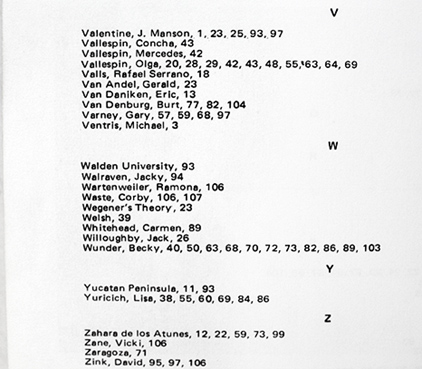 I'm listed in the index of Maxine Asher's 1974 book "The Atlantis Conspiracy" along with Erich von Däniken. Olga Vallespin was our team's Spanish underwater archaeologist. There are two other familiar names of 1970's "Atlantis in the Bahamas" underwater research fame - J. Manson Valentine and David Zink.
I met Olga Vallespin in Cádiz but we didn't interact very much beyond saying hello in passing. Although he wasn't on our trip I've chatted with author/researcher Erich von Däniken several times at Contact In The Desert conferences in 2015, 2016 and 2017 at the Joshua Tree Retreat Center in the Mojave Desert. I told him about my participation in the 1973 Atlantis expedition but we didn't have time to really discuss it. I never got to meet J. Manson Valentine, he was quite famous in the field but he was not on our trip. Maxine Asher passed away in May, 2015.
Gades aka Cádiz, City Beyond The Pillars Of Hercules
Phoenician Iberia
| | |
| --- | --- |
| | |
"Cádiz is one of the oldest cities of Europe, founded by the Phoenicians in the 9th Century BC, but possibly even as early as 1100 BC with the name Gadir. It was conquered by the Romans in 209 BC and despite its remote location, developed into a rich, important city with the name Gades. Gades must have been a fascinating place in antiquity. It was then the westernmost city of the Empire on the shore of the Atlantic Ocean beyond the pillars of Hercules at what was then the end of the known world. Gades was a bustling metropolis of commerce, with temples, an amphitheater, and a theatre all in the narrow space of two elongate islands forming great natural harbours. According to Strabo, space was no problem "...since the inhabitants are nearly always at sea...".
The city grew rapidly under Augustus and the early emperors and harboured the famous temple of Hercules-Mekart at the tip of the southern island. The city was so famous for its remoteness, that souvenirs were made in the shape of silver milestones known as the Vicarello silver cups inscribed with a long list of towns between Rome and Gades.
In the late empire the city fell into decline by lack of trade opportunities, which worsened when it was conquered by the Visigoths. Occupied by a people without a strong seafaring tradition, and with the empire gone, the city reduced to a village in a field of ruins by the Fourth Century AD."
"During the Age of Exploration, the city experienced a renaissance. Christopher Columbus sailed from Cádiz on his second and fourth voyages and the city later became the home port of the Spanish treasure fleet. Consequently it became a major target of Spain's enemies. The 16th century saw a series of failed raids by Barbary corsairs; the greater part of the old town was consumed in a major fire in 1569 and in April, 1587, a raid by the Englishman Francis Drake occupied the harbor for three days, captured six ships, and destroyed 31 others (an event which became known in England as 'The Singeing of the King of Spain's Beard'). The attack delayed the sailing of the Spanish Armada by a year."
1973
I first learned about the Atlantis expedition from this Probe The Unknown magazine article in the June, 1973 edition.
Summer in Cádiz, Spain
Cádiz city and province is on the Atlantic coast of Andalusia in southwest Spain on the Iberian Peninsula of Europe. Seville is the nearest big city.
Our Atlantis expedition flew as a group on Iberian Airlines from New York to Madrid on July 5, 1973. We planned to search for Atlantis and learn about it from the college credit courses at the Conservatorio Manuel de Falla by day and have fun drinking sangria and enjoying summer nights in Cádiz, the oldest continuously inhabited city in Spain and one of the oldest in western Europe. And that's what we did once we arrived.
Iberian peninsula from space
There are some interesting things about the Basque people of northern Spain and southern France that may relate to the existance of Atlantis. They include their extremely old language which is unlike any other language in the world, their rare and unusual Rh negative blood type and the Basque's legends and mythology. The Basque connection was one of the big reasons Maxine Asher thought Spain should be investigated. I need to investigate it further myself now that DNA testing is showing us where different peoples originated.
Expedition Base in Cádiz at Playa Victoria
| | | |
| --- | --- | --- |
| | | |
| Our Atlantis expedition was based in Isocotel Hotel on popular Playa Victoria in Cadiz in 1973. It was similar to these modern hotels located there today. We only had to cross the street to get to the beach. | | Playa Victoria in Cadiz, Spain is a popular tourist destination today just as it was in 1973. This view is from the north. If you travel beyond the horizon on the right south down the coast you'll get to the Strait of Gibraltar known in the ancient world as the Pillars of Hercules. Plato said Atlantis lay beyond them so Cadiz was a logical base to explore from, |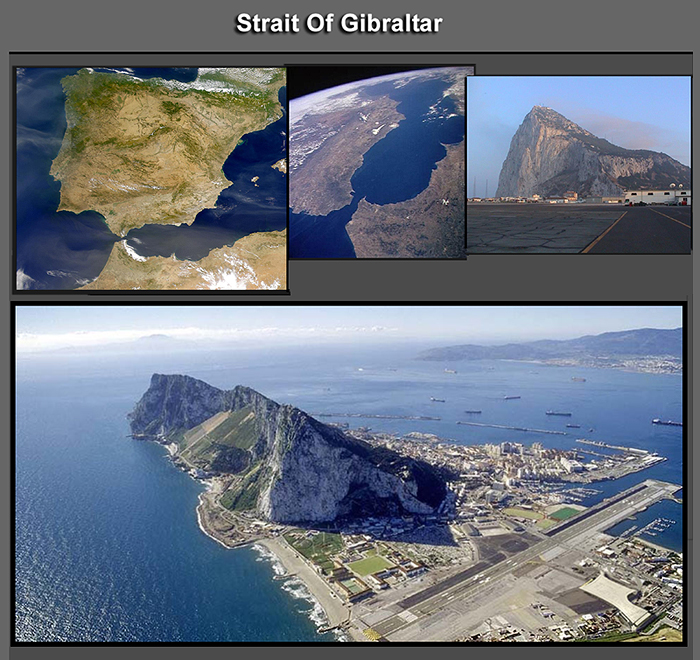 Our expedition was covered in both Time and Newsweek Magazines
(see larger versions below in chronological list of press articles)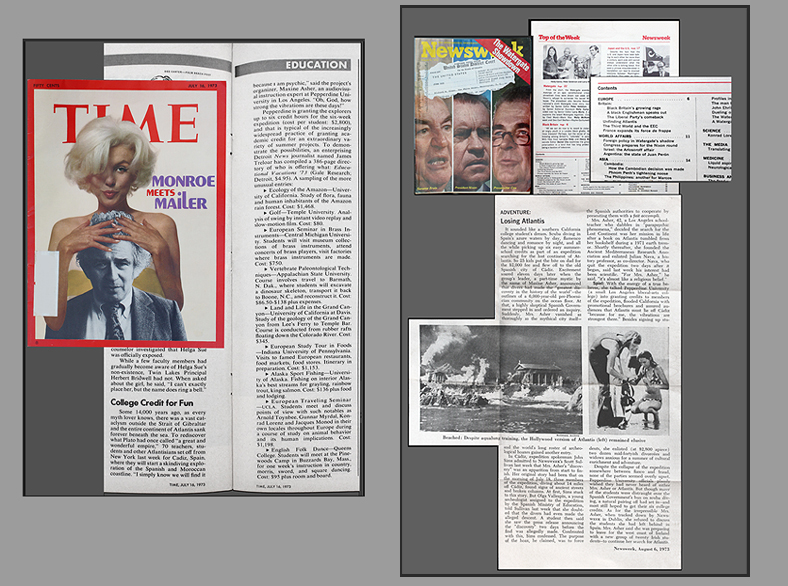 Paul McCartney & Wings actually sang about "sunken Spain" referring to Atlantis in their song "Spirits Of Ancient Egypt".
The song is on the Wings album "Venus and Mars" from 1975. They obviously heard the news that our expedition had discovered Atlantis. Later it turned out we probably hadn't but band member Denny Laine, who wrote the song, must not have heard that or maybe he just believed in it anyway. In the pic below Denny is the one that looks like he's praying. Before Wings he was one of the original Moody Blues before the band's lineup was partly revamped. Denny sings most of the song except for the chorus so it's actually former Beatle Paul McCartney who sings the line "Echoes of sunken Spain". That's amazing to me as a life-long Beatles fan ever since my family lived in Wales, UK during the beginning of Beatlemania in 1962-1964. I certainly never expected Paul to be singing about something I did in a million years!
In a strange twist in 1998 I was hired by the NASA Jet Propulsion Lab in Pasadena to create Mars mission artwork. I was the "Mars artist". More recently I've also been creating Venus mission artwork. I've now been become a "Venus and Mars artist." I certainly had no idea that was my in my future when I first heard the album!
Watch the video to hear "Spirits of Ancient Egypt" performed live
Click on the graphic link
About the song and my song poster below:
Three civilizations are named in lyrics at each chorus, sunken Spain is in the second one. The "Echoes of Sunken Spain" poster shows Atlantis disappearing into the sea off the Pillars of Hercules, which is where Greek philosopher Plato located the eastern-most island of it.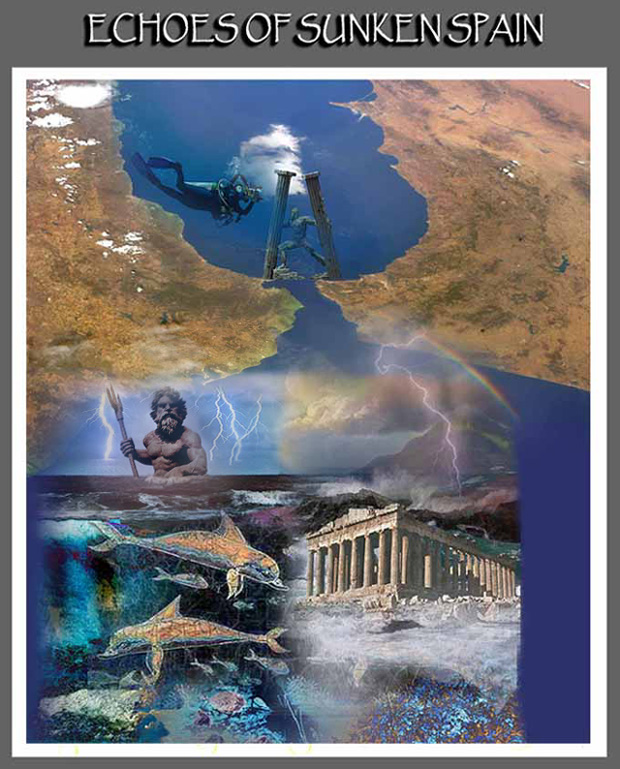 "AMRA students prepare to leave for Spain from New York, July 5, 1973". AMRA stood for Ancient Mediterranean Research Association, the organizer of the expedition. The trip leader Maxine Asher was already in Cádiz making preparations. I'm in the back row on the right with glasses and long hair.
Pic is from Maxine's book "The Atlantis Conspiracy"
Gail Cayce, Atlantis expedition member
The famous psychic Edgar Cayce's granddaughter Gail was in Cádiz, Spain with us. Gail and the Association for Research and Enlightenment gave the expedition assistance by providing the team with the late Edgar Cayce's psychic readings about Atlantis.
About a month after we all returned from Galway, Ireland Gail sent me a rare copy of "Earth Changes" with a note inside. In the note she mentioned "M1" which was how some key team members occasionally referred to expedition leader Maxine Asher while in Spain and Ireland - "M" for Maxine and "1" for number 1.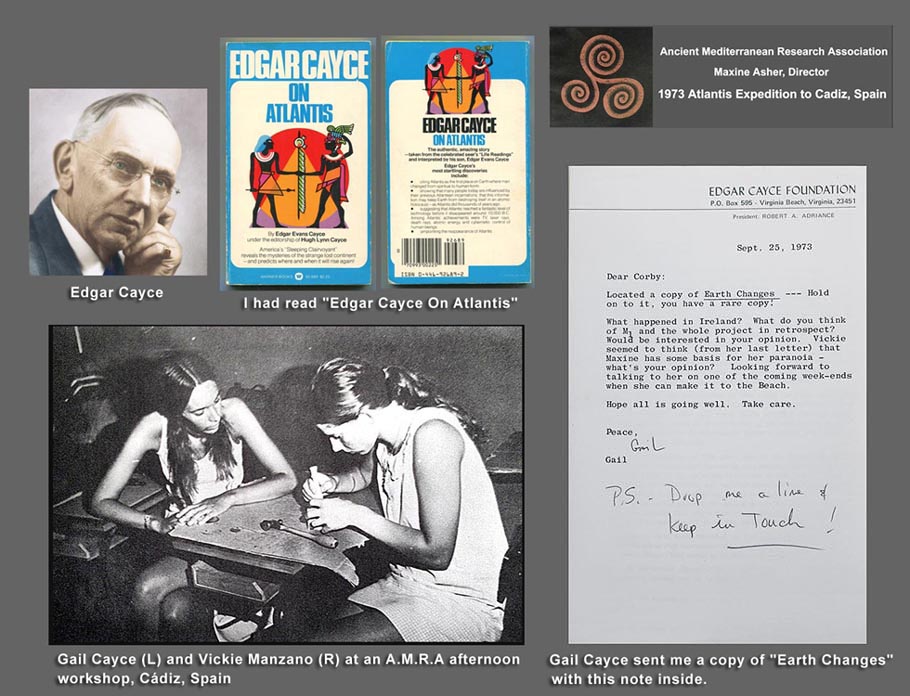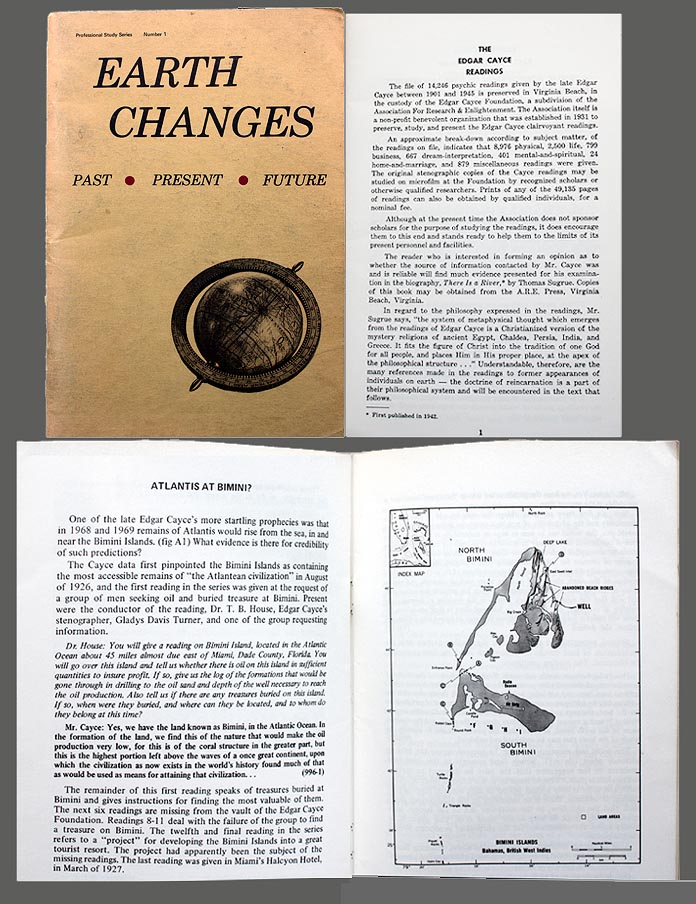 Egerton Sykes, Atlantis expedition member
Egerton Sykes and his wife with Maxine Asher in front of his home at 14 Montpelier in Brighton, England. Egerton was the leading Atlantis researcher of his day and participated in our expedition to Spain when he was 79 years old. He presented lectures to the students in the classroom setting of the Conservatorio Manuel de Falla. Here's more about him.http://www.seachild.net/sykes/
Pic is from Maxine Asher's 1974 book "The Atlantis Conspiracy"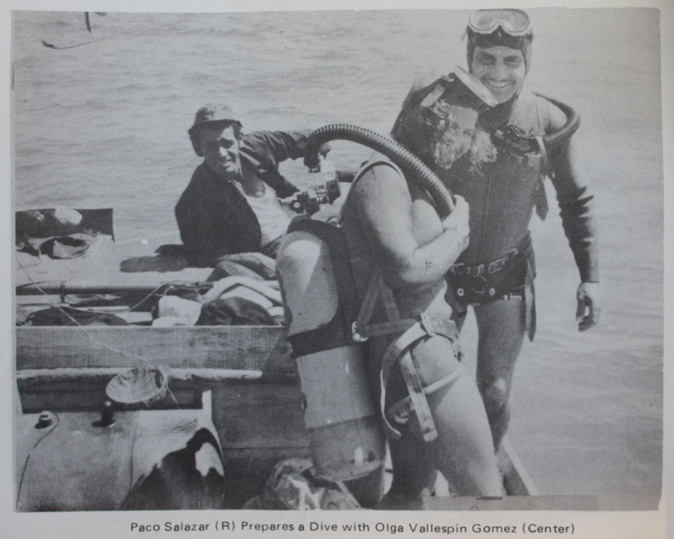 Atlantis Expedition Diver Francisco Salazar aka El Pantera or Paco Salazar
Two key people on our Atlantis expedition were Francisco Salazar, well-known Spanish diver nicknamed El Pantera (the Panther) and Spanish archaeologist Olga Vallespin
In later years there are reports that El Pantera had found underwater ruins off the coast of Spain. This caught the attention of the team that enlisted film director James Cameron and was a big part of their National Geographic special "Atlantis Rising".
Watch "Atlantis Rising - Trailer" | National Geographic - Jan. 25, 2017
"Why James Cameron Decided to Investigate the Legend of the Lost City in Atlantis Rising" - People.com - Jan. 27, 2017 - includes El Pantera's discoveries
"Atlantis Rising" - National Geographic TV
I only recently discovered this potentially important development. Here's what I found:
News articles concerning underwater ruins off Spain, as discovered by Francisco Salazar aka El Pantera, translated from Spanish via Google Translate.
It's interesting that our expedition was there 40 years before all this, with the same diver and the same location, more or less. Things didn't work out in 1973 for our team but perhaps it might have. Not that James Cameron has now found Atlantis with El Pantera's help. It doesn't sound like it to me but it encourages me to continue where El Pantera left off. He died in 2015, unfortunately. The people of Cadiz gave him a special memorial event.
I would love to explore more sites off Spain and see what's out there. First I would find out where El Pantera's site was and expand from there.
Pics are from Maxine Asher's 1974 book "The Atlantis Conspiracy"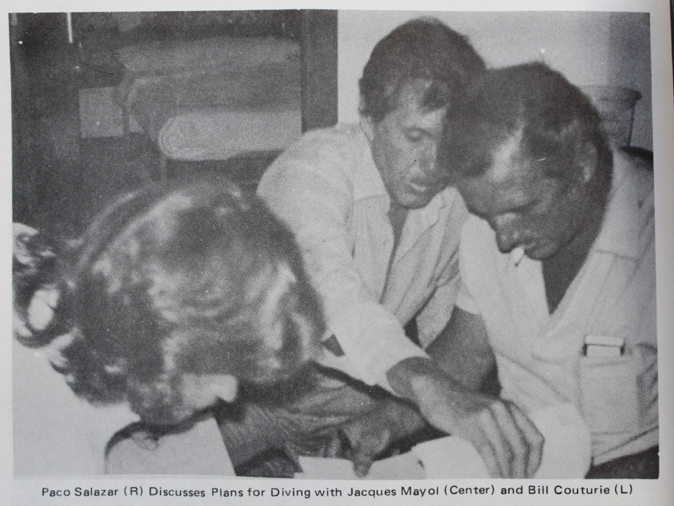 Undersea Cádiz - Roman Gades
The first time I snorkeled off the beach in Cádiz in preparation for later scuba diving lessons I at first saw only a sandy bottom. Just a little deeper, though, I saw vague rocky shapes that seemed somewhat regular. It's well known that the sea level has risen over thousands and now covers both the ruins of Roman Gades and the even more ancient Phoenician city of Gadir. I think what I saw was probably Roman ruins because it was still in the shallows. The Phoenician ruins would have been deeper because they were further back in time.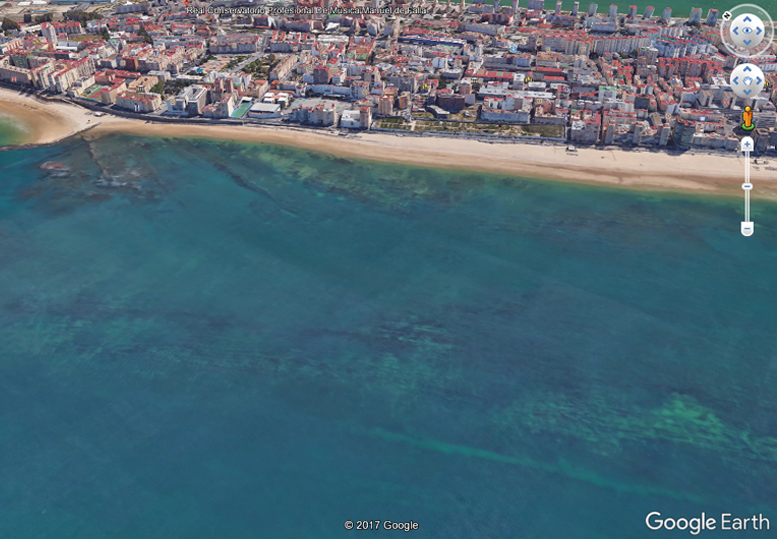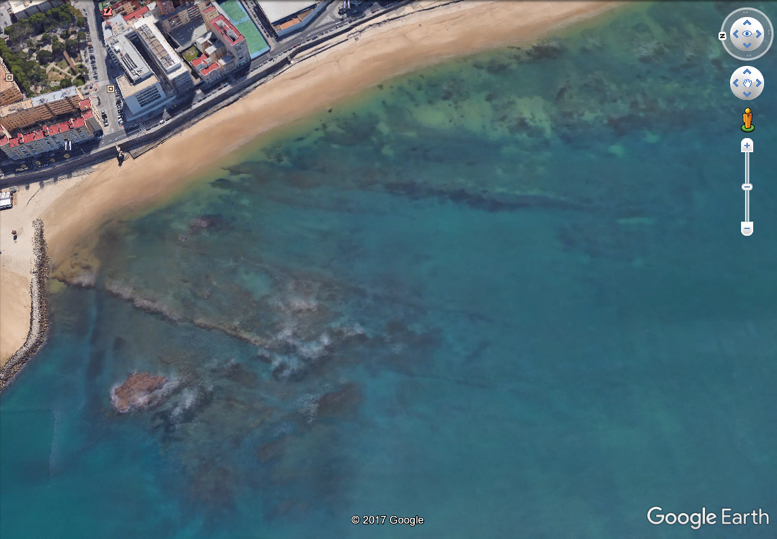 Undersea Cádiz - Roman Gades
As far as I can tell the first view above is in the vicinity of our Atlantis expedition's base at Isecotal Hotel. I see there are interesting stone formations in the sea there but I don't have any confirmation what they actaully are.
My prehistoric Cádiz fossil beach discovery
Searching for Atlantis but found this instead
On the Playa Victoria beach across from our hotel I picked up this unusual rock in or near the surf, if I recall. I knew it was "something" because ordinary rocks don't look like this. It reminded me of the basaltic volcanic rock column formation at the Giant's Causeway in Ireland but that was as far as my thinking went. I kept it as my only Spanish specimen from the Atlantis expediton not realizing what I had found. Only recently when I finally took pictures of it in the sunlight did I see that it's actually a fossil. I never looked that closely at it over the 40 plus years it was in a special box for safekeeping. I had owned a collection of marine fossils when I was around 7 years old because of my fascination with prehistoric life so that gave me some familiarity. More recently I've become an avid field rock collector specializing in fluorescent minerals and occasionally finding fossils. All that helped me immediately recognize what I'd found in 1973. I researched it on the web and recall reading something about ancient marine fossils around the Cádiz area. It could be from as early as the Cambrian or Devonian, etc. but I need to rediscover that information.
In any case the chances of me picking up a rock on the Spain part of the Atlantis expedition that turned out to have some scientifica value seems like a long shot but it happened.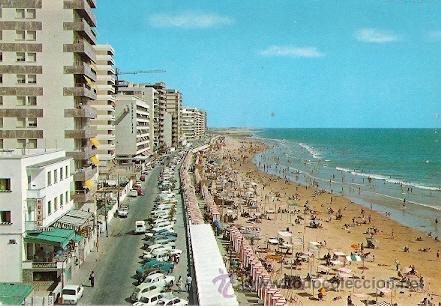 Playa Victoria Cádiz, Spain
1973 Atlantis Expedition Press Articles (Under Construction)
In addition to these available online newspaper archives I have an extensive collection of original 1973 newspaper clippings I saved including several from the Galway, Ireland portion of our expedition - will add the best ones and also some correspondence.
I arranged them chronologically.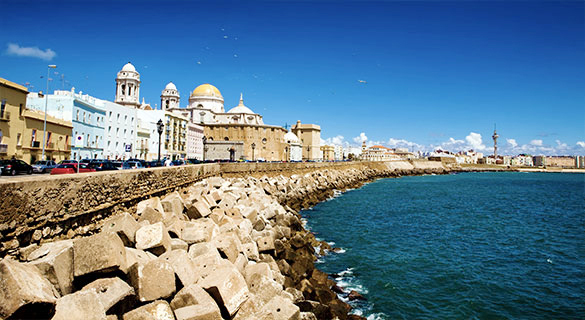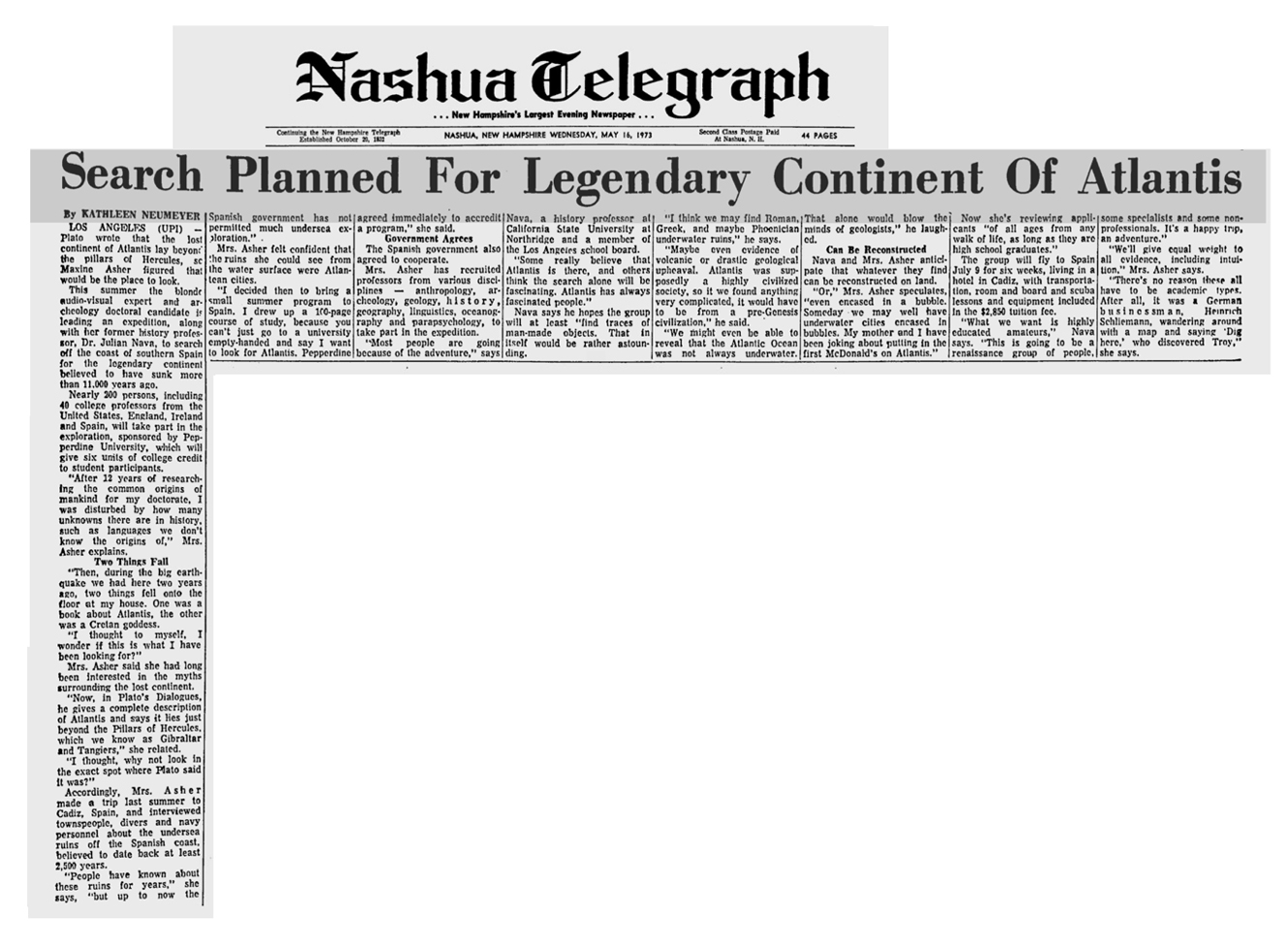 TIME MAGAZINE - JULY 16, 1973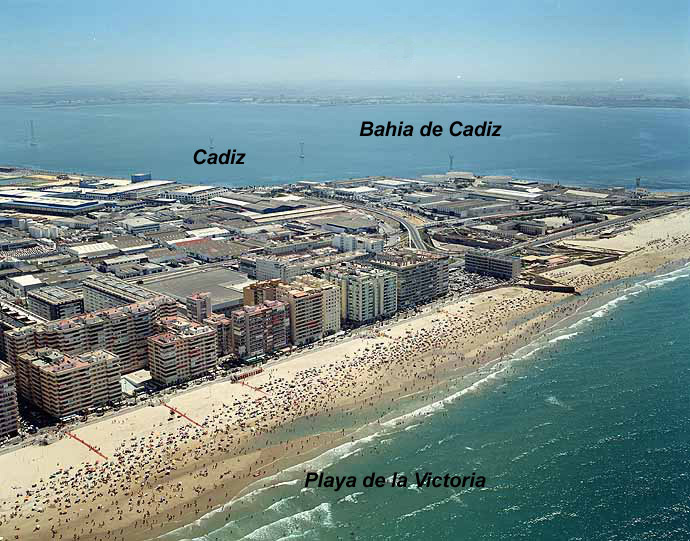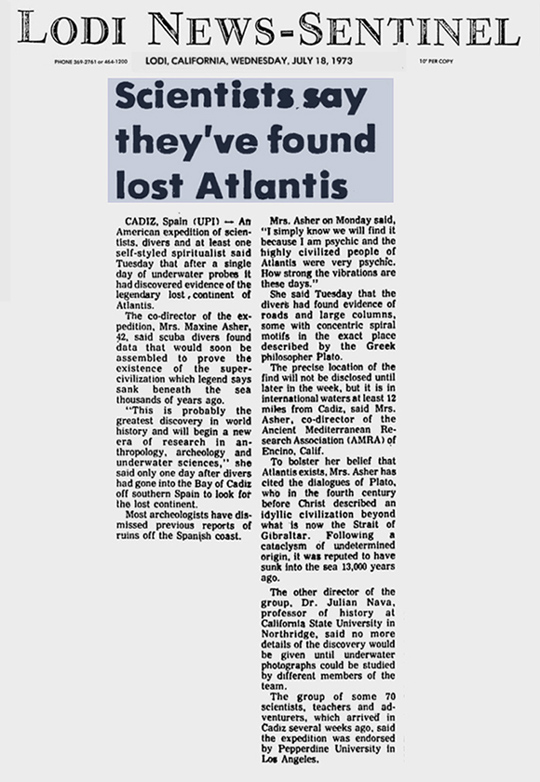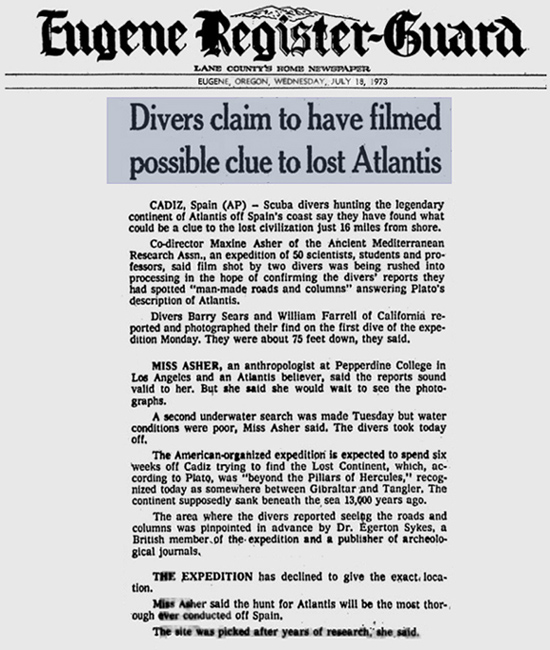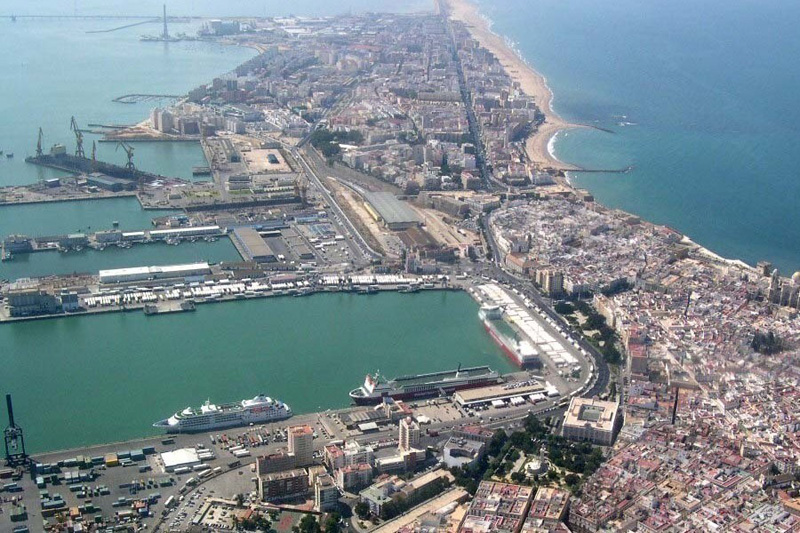 Cádiz aerial view including Playa Victoria beach where our 1973 Atlantis expedition was based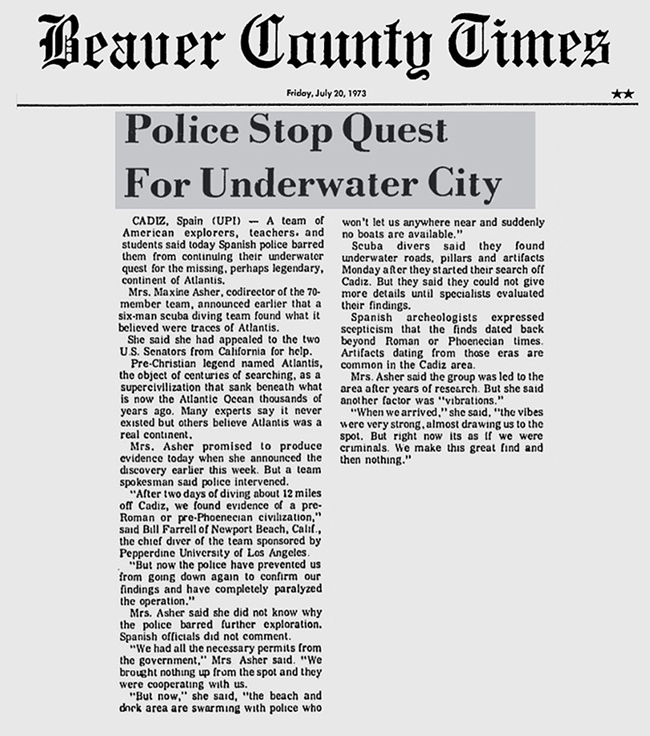 NEWSWEEK MAGAZINE - AUGUST 6, 1973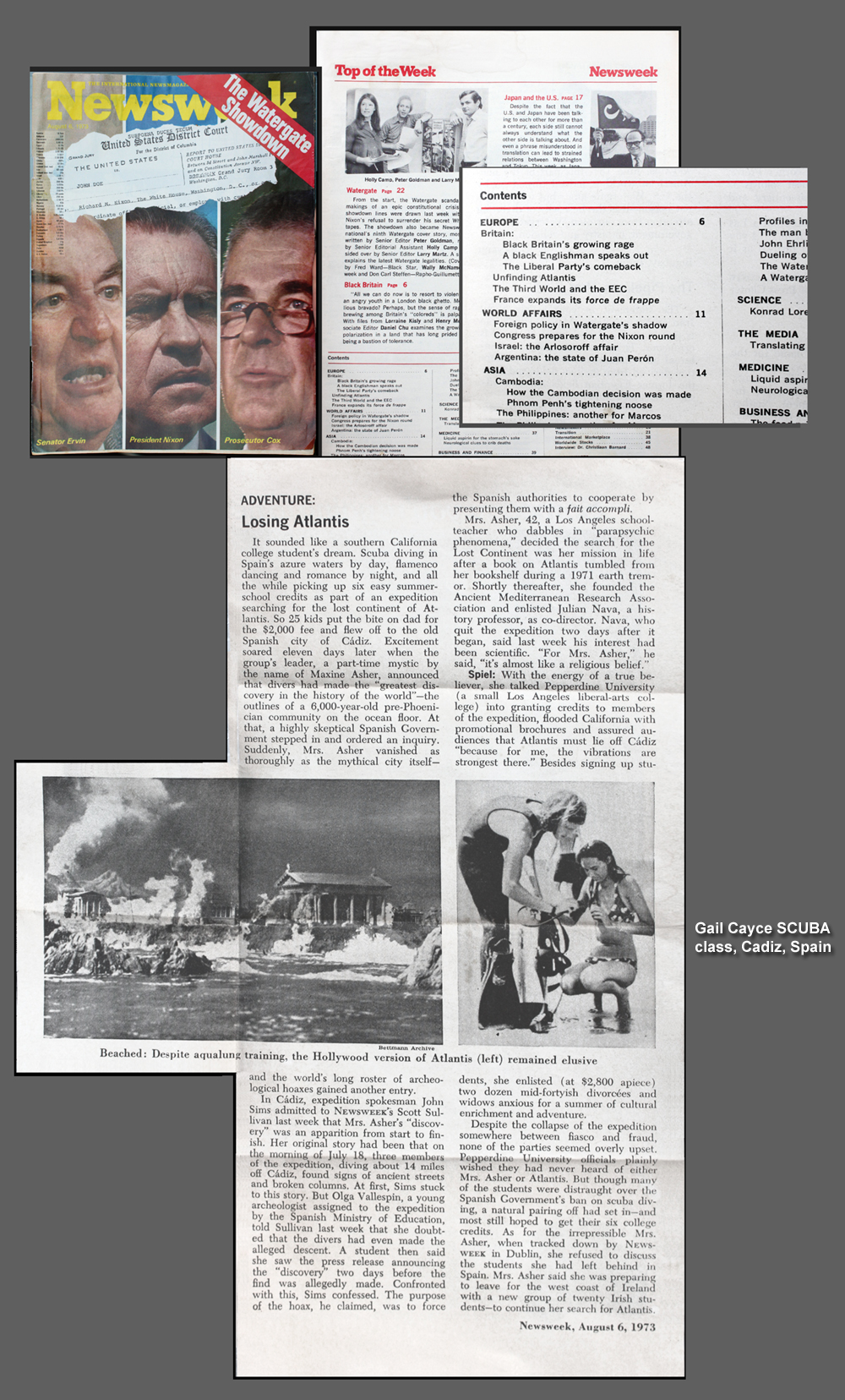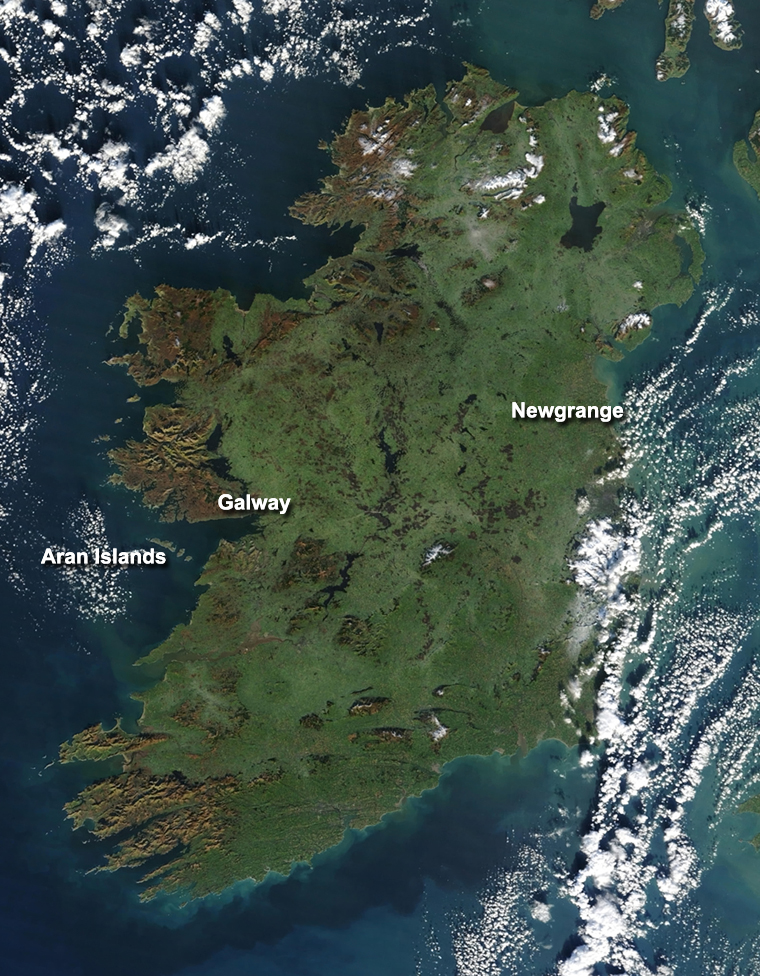 The expedition moved to Galway, Ireland on the west coast. We went there to research the predominantly Gaelic-speaking Aran Islands west of Galway and the legends of sunken lands like Hy-Brasil. We also were interested in learning more about the Tuatha Dé Danann, a supernatural race in early Irish mythology. They were one of several waves of people that inhabited Ireland, first arriving on the west coast. We also heard about the Fir Bolg, the fourth wave of people to settle in Ireland but who later left and traveled to other parts of Europe including Greece. Is it possible there is some truth behind such detailed early mythical stories? Those are the 2 legendary peoples that I recall researching when I was there, long before the internet made it so easy to collect this kind of information. We know that ancient megalithic builders were constructing elaborate structures in remote places like the islands on the west coast of Scotland at a very early time but we don't know much about who those people were or where they came from. Similarly, it's remarkable that the enormous Newgrange passage tomb in Ireland is actually older than Stonehenge and the pyramids of Egypt.The earliest evidence of human presence in Ireland is dated at 10,500 B which is interesting in terms of Plato's account of the lost continent of Atlantis. The now-underwater continental shelf off western Ireland was once dry land in the past. Perhaps there are some big discoveries to be made there.
Atlantis Expedition to Galway, Ireland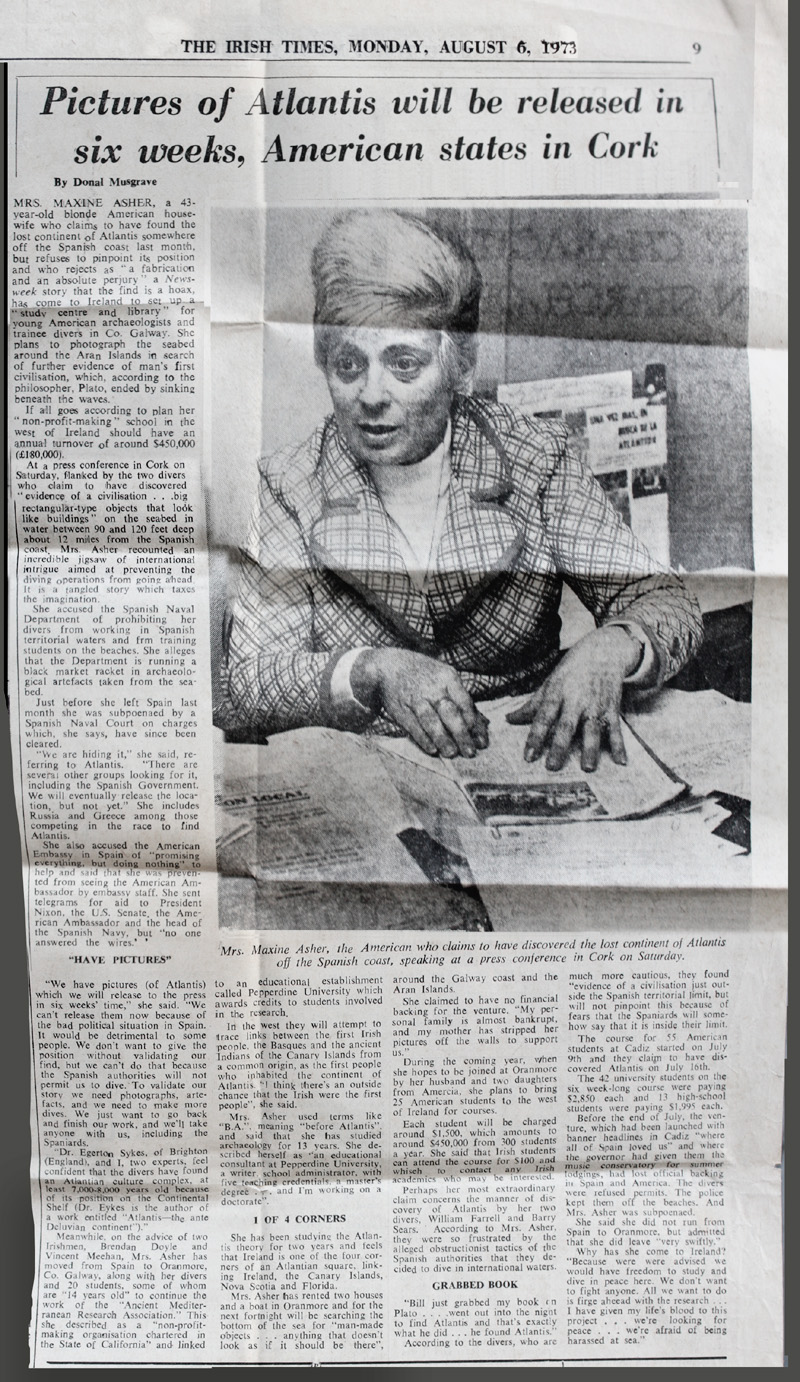 1973 Atlantis Expedition

to Galway, Ireland

During the Ireland segment we drove all the way across Ireland from Galway on the west coast to just north of Dublin on the east coast to see Newgrange and tour inside. It's older than Stonehenge and the Pyramids of Egypt. It's so old it's dated back to the last part of the Stone Age known as the Neolithic. It's curious that such a huge megalithic monument was constructed at such an early time in Ireland before Europe's Bronze Age when the others like Stonehenge were constructed. The organization it took to build Newgrange and the carved symbols were of particular interest. The expedition to both Spain and Ireland was led by AMRA, the Ancient Mediterranean Resarch Association and the organization's logo was the same triple spiral seen on the wall inside Newgrange.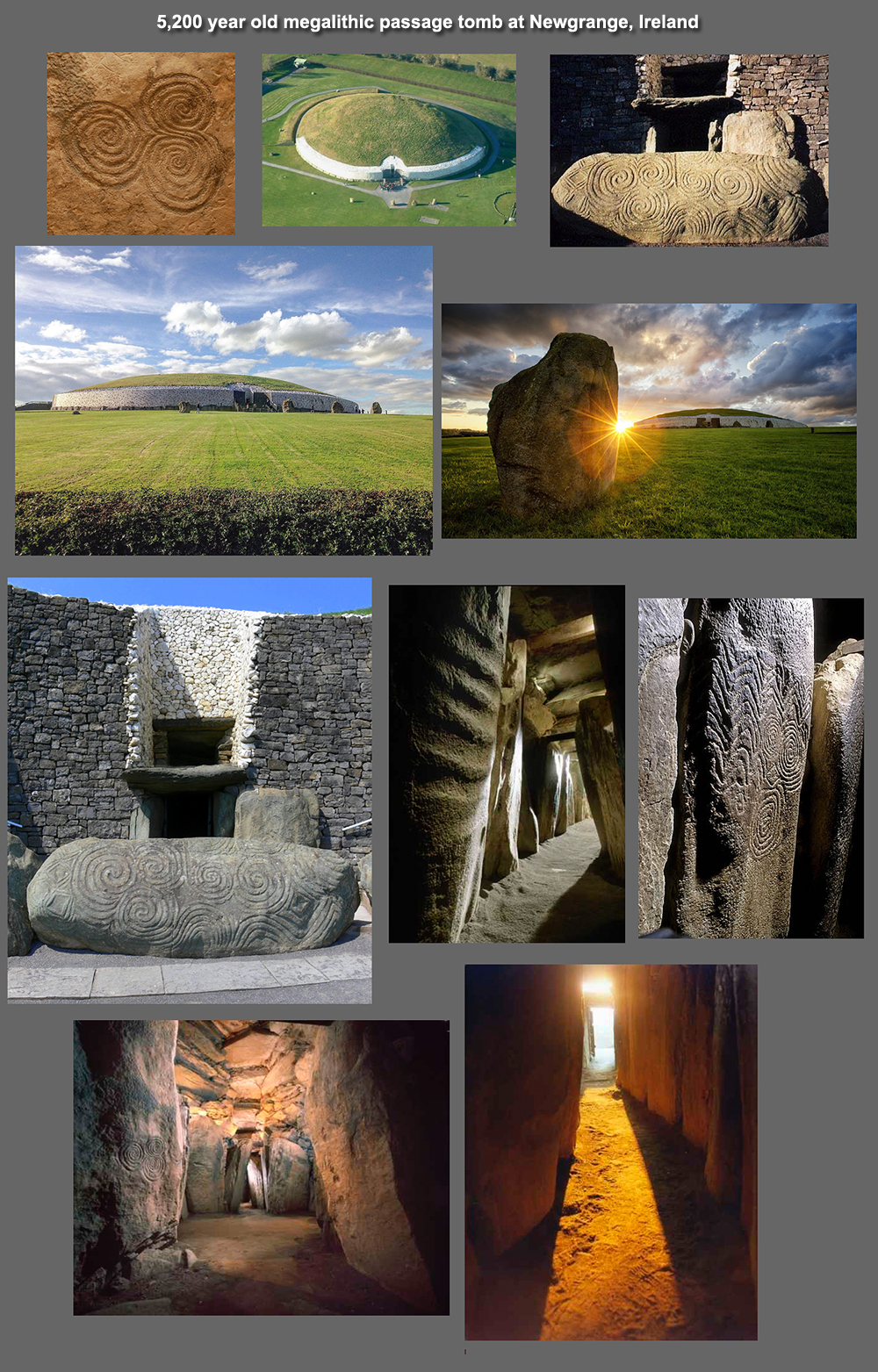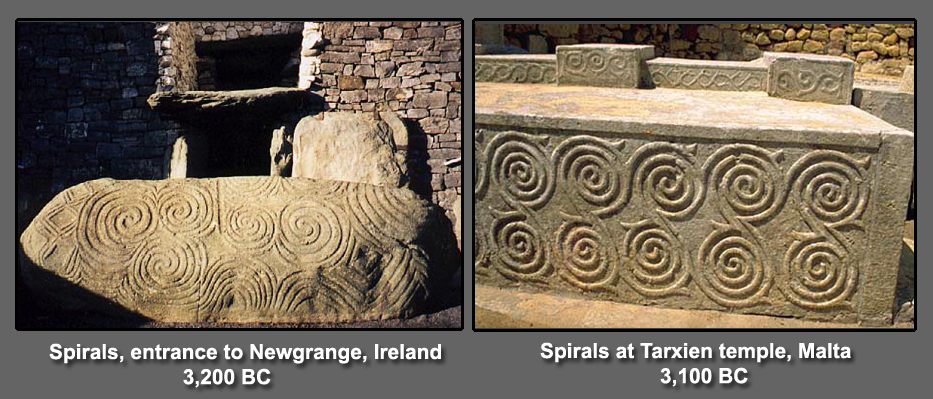 Aran Islands
We explored Inishmore, the largest of the Aran Islands
We explored Dun Aengus, the prehistoric cliffside fortress on Inishmore
At that time we were wondering if the fortress had once been intact but had been broken in half so our expedition's scuba divers dove in the sea below the cliff. They didn't report making any discoveries.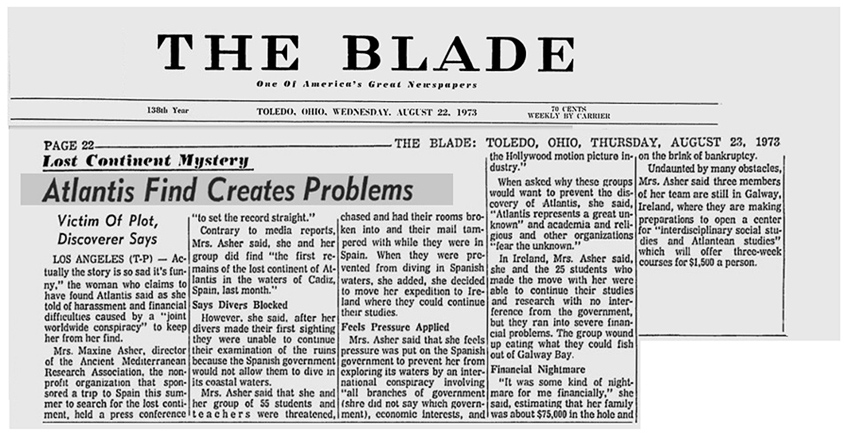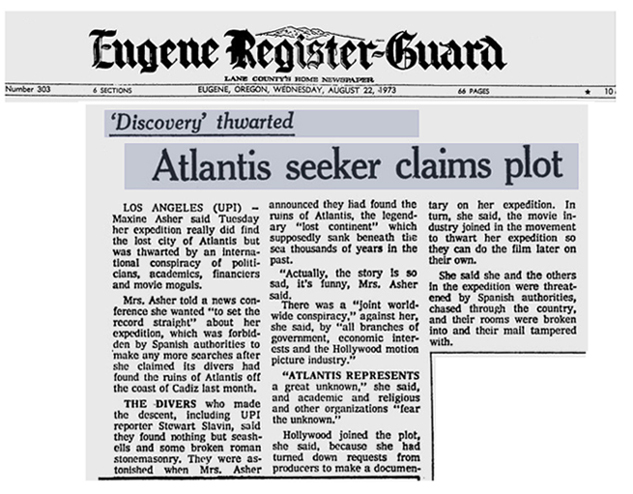 Telegram from Atlantis Expedition leader Maxine Asher
Spring 1974: SCUBA diving course
Spring 1974: SCUBA diving course at The Evergreen State College, Olympia, Washington. Location for first ocean dive was in Puget Sound near the Tacoma Narrows.
Was preparing to dive in continuing search for Atlantis starting with the "Bimini Wall" in the Bahamas. I completed the course but didn't continue diving or go to the island of Bimini. My girlfriend, the late Margaret "Maggie" Barker also from Marin County, took the course with me.
August 2015: I took a "Discover Scuba" diving course that enabled me to spend 50 minutes exploring the rich marine life under the Fredriksted Pier on St. Croix in the US Virgin Islands. It's one of the best places in the Caribbean to see seahorses and we did see them. It was my first scuba dive since 1974 and my first ever in warm, tropical seas. I really enjoyed it and plan to get certified again and do some exploring of the ancient Mediterranean and possibly other locations.
In 2016 I snorkeled briefly off Crete and was surprised to see how clear the underwater view is and that some of the fish species were brightly colored wrasses like those in Hawaii and the Caribbean. The visibility is so clear you could search for underwater ruins with ease, if there are any to be seen.
"Russians Seek Atlantis Off Cornwall" - BBC News - Dec. 29, 1997
"Search for "Lost" Atlantis Centers on Strait of Gibraltar" - National Geographic News, Jan. 4, 2002
"Lost city of Atlantis 'buried in Spanish wetlands'" - The Telegraph, March 11, 2011
"Lost City of Atlantis believed found off Spain" - NBC News, March 14, 2011
"Atlantis "Evidence" Found in Spain and Ireland" -- National Geographic News, August 19, 2004
"Lost city of Atlantis discovered? Grainy images show city-like formations at the bottom of the Caribbean" - Daily Mail, UK - Dec. 17, 2009
"Has the real lost city of Atlantis finally been found... buried under mud flats in Spain?" - Daily Mail, March 15, 2011
"'Sunken Atlantis Pyramid' Discovered off Azores Coast" - International Business Times, Jan. 9, 2015
Later investigation disproved it by using high-resolution scanning - it was only a natural underwater volcanic feature
"Divers Retrieve "Atlantis" Metal Orichalcum From Ancient Shipwreck" - Tech Times, Jan. 10, 2015
"Did Atlantis really exist on the Moroccan coast?" - New York Times, March 15, 2015
"Ruins of Atlantis located on land in Morocco, expert claims" - Inquisitr.com - March 16, 2015
"Does New Theory Pinpoint Lost City of Atlantis?" - National Geographic Book Talk, March 18, 2015
Atlantis Rising - Trailer |- National Geographic YouTube Channel - Published on Jan 25, 2017
"Lost City of Atlantis Has Been Found – And it's Connected to Jewish Temple in Most Incredible Way" - Breaking Israel News, Feb. 2, 2017 - as mentioned in National Geographic documentary "Atlantis Rising"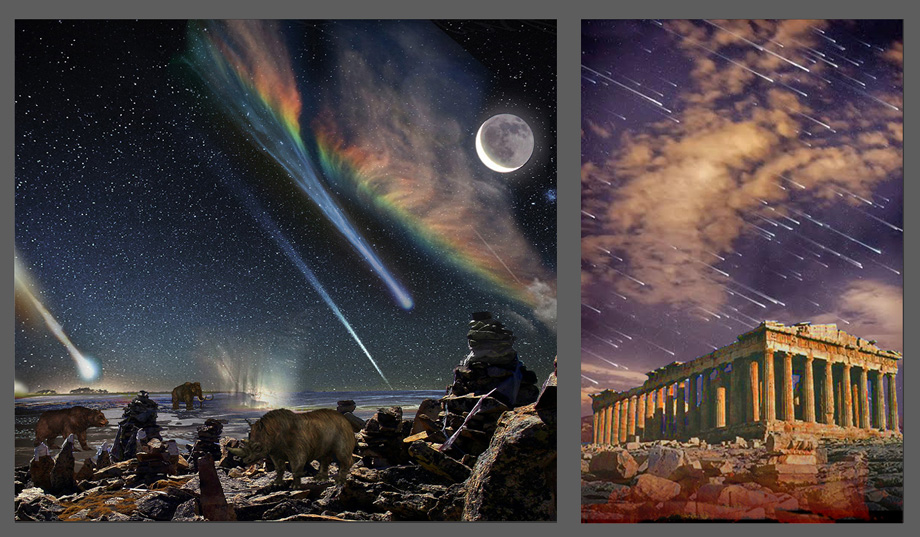 Comet impact at end of last Ice Age?
Scientific researchers have identified a possible cosmic catastrophe that may have been caused by a comet striking or exploding above North America at the end of the last Ice Age. It's an interesting coincidence that may be connected to the sudden disappearance of the legendary Atlantis which is also said to have been destroyed around that same time. There have been many discoveries that point to something terrible happening then but scientists are still working on exactly what that was and what the effects were. The end of the last Ice Age is becoming better understood each year but there is still much to be learned about the timing and the sequence of events. We now know there were some dramatic sea level rises that happened more quickly than once believed.
Above are two of my related artistic images: " Icy Comet Pleistocene Apocalypse" and "Tears of the Gods".
Related Exploration Experience
(click on the graphic links)
Atlantis Expedition To Egypt, May, 1976 including
the recording of Paul Horn's "Inside The Great Pyramid"
(Under construction)
Click on the graphic link
My First Edition of "Atlantis - Mother of Empires"
My great-uncle Don Maas owned this rare first edition of "Atlantis - Mother of Empires" which I later inherited. It was written by English architect-engineer and Maya and Atlantis researcher Robert Stacy-Judd in 1939.
My mother told me that Don had a psychic reading from the famous Edgar Cayce. Edgar's granddaughter Gail Cayce was a member of our 1973 Atlantis expedition to Cadiz, Spain.
Mayan Flood Scene
Photograph taken at an unknown Mayan site in the Yucatan by explorer Teobert Maler of a stone frieze showing a Noah-like figure escaping a deluge as a volcano erupts and a cyclopean structure collapses. The photo appears in my first edition copy of Robert Stacy-Judd's 1939 book "Atlantis - Mother of Empires". The author suggests it may depict the sinking of Atlantis and the Mayan legend of a great flood with only one or two survivors. See Mesoamerican flood myths on Wikipedia for more details, there are many of them.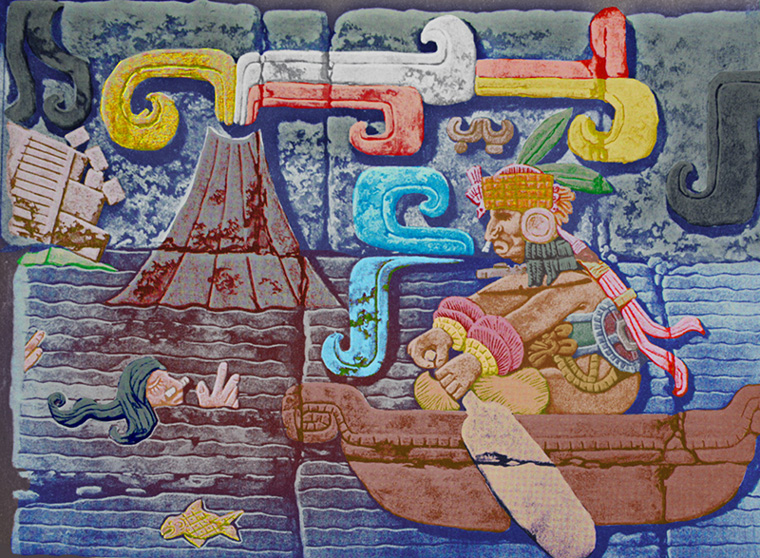 Colorized Mayan Flood Scene
Colorized photograph taken at an unknown Mayan site in the Yucatan by explorer Teobert Maler of a stone frieze showing a Noah-like figure escaping a deluge, as a volcano erupts and a cyclopean structure collapses. The photo appears in my first edition copy of Robert Stacy-Judd's 1939 book "Atlantis - Mother of Empires". The author suggests it may depict the sinking of Atlantis and the Mayan legend of a great flood with only one or two survivors. See Mesoamerican flood myths on Wikipedia for more details, there are many of them.
I don't have any additional information or confirmation about the original photograph as to it's provenance other than that early Yucatan Mayan explorer Teobert Maler is said to have taken it.
About my image: I followed the color patterns from the "Destruction Of Atlantis" scene painted by architect-researcher-author Robert B. Stacy-Judd from my first edition copy of his 1939 book "Atlantis - Mother of Empires" which is reproduced below.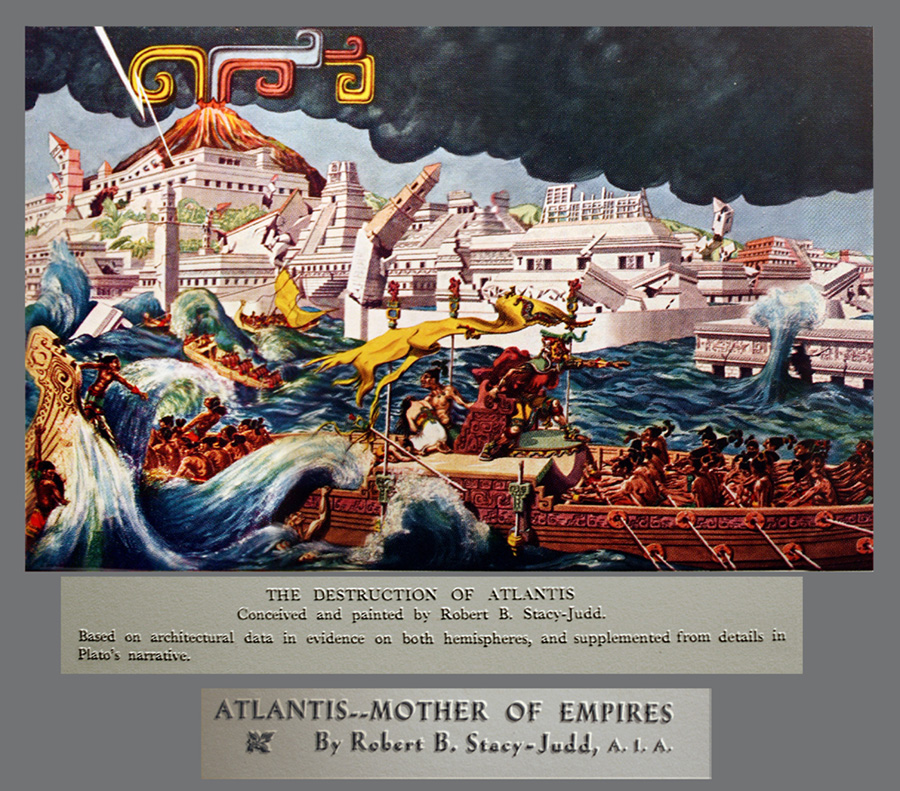 40th Anniversary of 1973 Atlantis Expedition to Cadiz, Spain & Galway, Ireland posters
"Mysterious Civilizations"
Was there a strangely advanced "mother civilization" in the past before the dawn of recorded history? Where did civilization first begin? Why are there so many similarities in cultures many thousands of miles apart?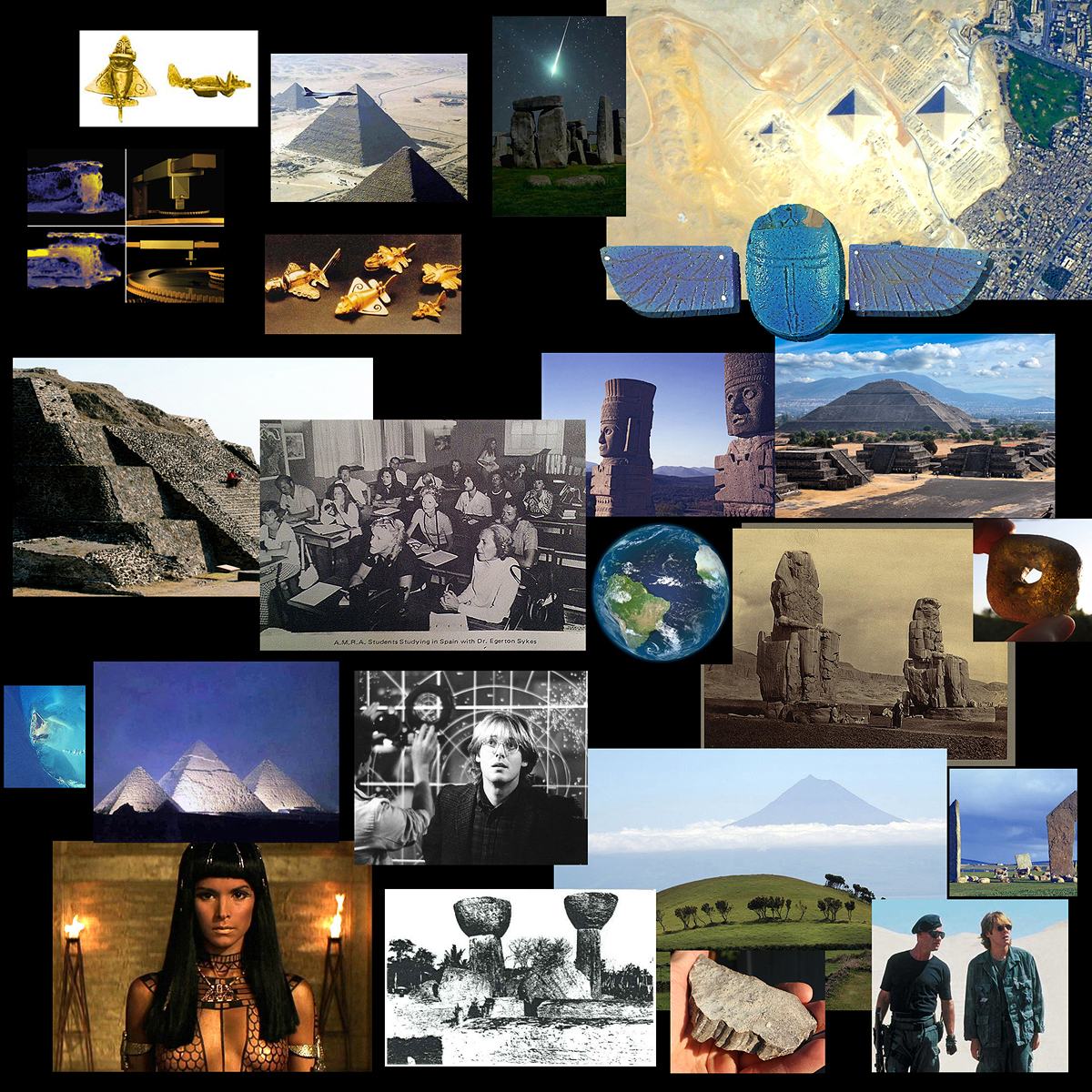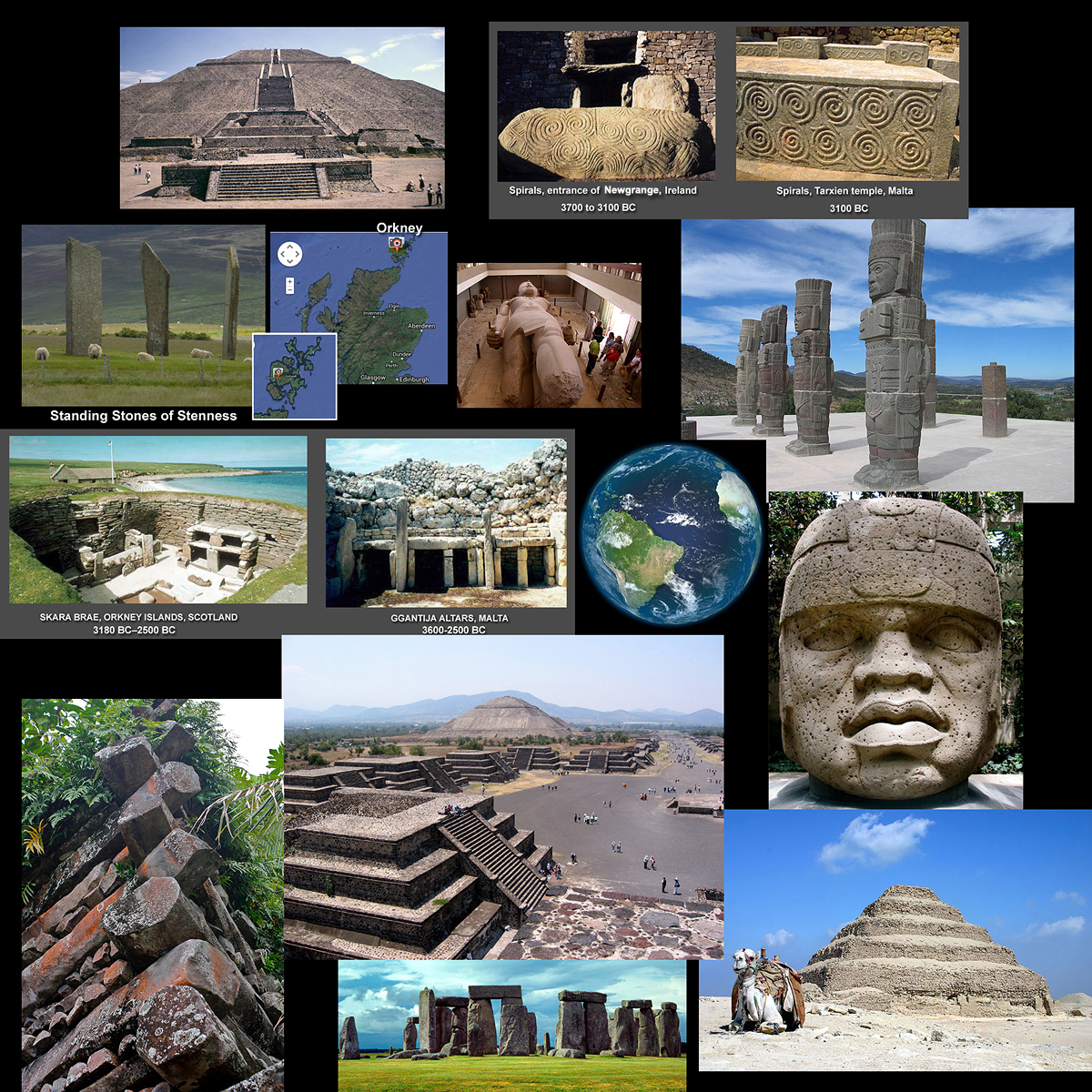 The Fourth Millennium is the domain of Corby Waste
Fourth Millennium contact
© Copyright 2021 by Corby Waste